Scientists have discovered damage to two major Antarctic glaciers through satellite imagery, according to a new study.
Researchers from the U.S. and several other countries published a study Monday that found two of the fastest-changing glaciers in Antarctica, the Pine Island Glacier and Thwaites Glacier, have developed "crevasses and open fractures," which show "signs of their structural weakening."
"These damage areas consist of highly crevassed areas and open fractures and are first signs that the shear zones of both ice shelves have structurally weakened over the past decade," researchers wrote in the abstract.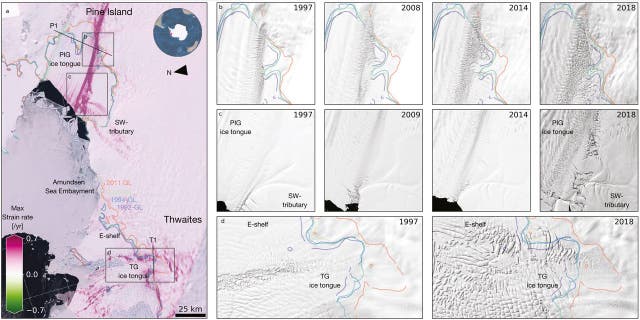 Damage evolution started around 1999 for the Pine Island Glacier, and damage evolution for the Thwaites Glacier started around 2000 but "moved farther upstream" around 2016, satellite imagery shows.
The glaciers' "shear zones," or areas of severe deformation, have increased about 30% since 1992, and the fastest increase occurred between 2000 and 2010.
CLICK HERE TO GET THE FOX NEWS APP
Researchers concluded that it is impossible for the glaciers to completely collapse in the near future because surface-level melting is so little, but damage in shear zones "makes them vulnerable to enhanced mass loss and grounding line retreat."