NASA's SpaceX Crew-2 mission launched into orbit Friday, carrying four crew members set to board the International Space Station (ISS) for a period of six months.
The passengers carried in the crew capsule include NASA's Megan McArthur and Crew-2 Commander Shane Kimbrough, JAXA (Japan Aerospace Exploration Agency) astronaut Akihiko Hoshide and ESA (European Space Agency) astronaut Thomas Pesquet.
SPACEX CREW-2 LAUNCHES ASTRONAUTS TO INTERNATIONAL SPACE STATION
The flight marks the Elon Musk-owned company's third crew flight in less than a year, the second crew rotation on a commercial spacecraft mission and the first with two international partner astronauts.
It is also the first time SpaceX has reused a capsule and rocket to launch astronauts for NASA.
The Falcon 9 rocket and Crew Dragon spacecraft Endeavour launched from Florida's Kennedy Space Center at 5:49:02 a.m. ET, reaching orbit just over 12 minutes into their journey.
In a post-launch news conference, NASA's acting administrator Steve Jurczyk said he "could not be more proud."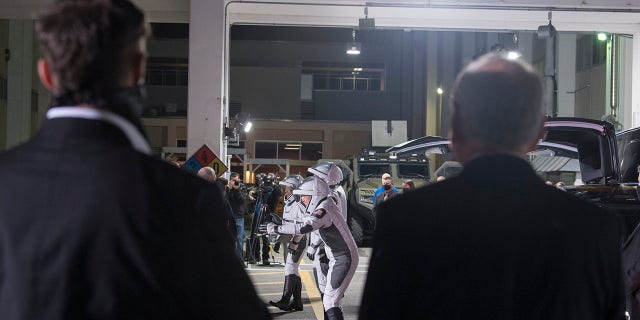 "It's a busy time for us. It's an exciting time. It's the first time we've done this direct handover and I'm just really proud to be part of the team," he said. 
Hiroshi Sasaki, vice president and director general of JAXA's Human Spaceflight Technology Directorate, and Frank de Winne, manager of ESA's International Space Station Program, voiced their excitement for this mission as well as future ones.
Sasaki said he believes the Crew-2 mission is a symbol of international and industry partnership and de Winne said ESA is "really looking forward to further enhance this great international cooperation."
The Crew-2 members will join NASA astronauts Mark Vande Hei, Michael Hopkins, Victor Glover, and Shannon Walker, JAXA astronaut Soichi Noguchi and Russian cosmonauts Oleg Novitskiy and Pyotr Dubrov.
CLICK HERE TO GET THE FOX NEWS APP
The Crew-1 team that arrived last November is scheduled to return to Earth on April 28.
Coverage of the crew's 23-hour ride and docking will continuously air live on NASA Television and the agency's app and website.
"These missions allow us to keep our Utilization Research Program, our technology development for Artemis and our lower Earth orbit commercialization activities onboard the International Space Station moving forward with an incredible amount of steam," NASA's ISS program manager Joel Montalbano said.