Scientists announced the first successful cloning of a U.S. endangered species: a black-footed ferret.
The animal, named Elizabeth Ann, was born Dec. 10 and announced Thursday. Willa, the ferret who served as the genetic source for Elizabeth Ann, died in 1988 and remained frozen as cloning research was just getting underway.
The success gives conservationists hope to see other species returned to the wild, though the process will require patience. The process required the use of a tame domestic ferret, and a second clone did not survive.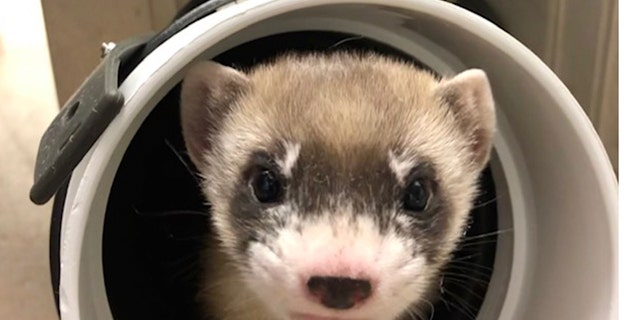 When Willa died, the Wyoming Game and Fish Department sent her tissues to a "frozen zoo" run by San Diego Zoo Global that maintains cells from more than 1,100 species and subspecies worldwide. Eventually, scientists may be able to modify those genes to help cloned animals survive.
"With these cloning techniques, you can basically freeze time and regenerate those cells," Gober said. "We're far from it now as far as tinkering with the genome to confer any genetic resistance, but that's a possibility in the future."
CLICK HERE TO GET THE FOX NEWS APP
A Fish and Wildlife Service black-footed ferret breeding facility in Fort Collins, Colo., is taking care of Elizabeth Ann.
The Associated Press contributed to this report.