Sick days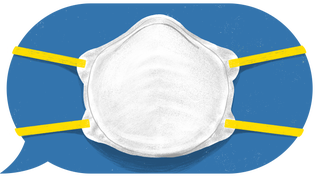 Sick days
Welcome to the sick, a collection of stories from readers on how the current covid-19 health crisis is to change the way they work and futures, they can count on in these uncertain times.
You are a frontline staff to deal with new pressures or irresponsible management? Working(or not working)from home beginning to take mental toll? How are you coping with the re-opening? Submitted using the story This Google form Or give me a E-mail With the theme"I Covid of the story", and provide as much detail as you're comfortable with.
The author's identity has been verified, and the submission has been edited for length, grammar and clarity.
---
Charles, Power Line tree trimming, Ohio

Because our industry is considered"basic infrastructure,"I have not missed a day of work because of the virus. I want to wear a mask when I went into the gas station to buy my morning coffee before work, but something about my every day has changed. What has changed is my attitude towards all these"non-Essentials", will on and in news reports and advertising about how"we are locked up,"or"since we both work at home,"or about how they want to"return to this world." You are really? A lot of us were never given the option to stay at home. (And those damn"heroes work here"signs…Please, we're not heroes, we just want to make a living.)

But those not on the"shelter in place"acts like all the world's terrible now. It has some kind of Invisible of the great monster out there, lurking in a corner waiting to get them. Don't get me wrong here, I know some people have already got the patient had died from covid-19, but there seems to be this General feeling Everyone Have been staying at home, Everyone There are 3 months or lock in to their homes.

How to make the most direct impact on me recently is that these"non-Essentials"of the role of the even bigger asshole to us, and we are trying to do, just our work. We cut trees from the power lines. We retain the power. We retain the power! But they give us any leeway when it comes to manipulating our huge bulky bucket truck down a city street filled with parked cars and no people? They open the door when we need them to move that car? They understand that we don't do the things we do trees, because we enjoy the cruel tree? No no and No! They are frightened, opened the door. Or they awake until who knows when and were still sleeping at 9:00. Or 10:00.

I saw it happen to the people who work at the gas station. And the grocery store. People in General, have become more apparent, in their rudeness. This is because, if the wheels fall off society, so they figure,"what the hell? Why not just a total jerk? It is the end of the world as we know it."

These guys, I have a simple request: please remember that you are Not The center of the world. Your isolation is not my fault. You look scared and anxious. I get it. However, please don't be a jerk about it. Those of us who did not get three months of paid(or unpaid)vacation are just trying to do our work here.
Ally, an emergency call dispatcher, England

At the beginning of the epidemic, I remember really worried, if someone is sick, we will keep on working and living in our headquarters. I share these thoughts with me, check who said she does not think it is possible and they are looking at all the contingency options to protect people.

Work smart we work, calling for an immediate drop of about 50%. No one is going out and it also did not give the people a relationship is so exhausting, they have loud domestics. Hardly anyone is driving to reduce road traffic accidents, so the work is surprisingly quiet. Usually in a year's time we appeal to begin to expand in warm weather, in the UK, and by June we are usually flooded, so it felt very strange to be sitting there twiddling our thumbs—it gives us more time to talk to each other, and the more time to worry.

During this time I became a happy winner I of the transfer, and tried to focus on the people in is a to each other and themselves. A lot of anxiety going around at this time.

Many of my friends have already been suspended and they are stuck at home with the child 24/7 and we formed a mini network of support groups. I feel lucky that I can continue my normal routine of full time work, you can't take emergency calls at home. My day has been spent studying for an online degree, so my routine hasn't changed too much. But I'm very up and down emotions. It sometimes feels like the end of the world is slow and we are falling. I'm single, No Kids and I can feel my anxiety level rising, so I had to make an extra need to use my support network, and say how I feel instead of keeping it bottled up. More than once I cried in my car after shopping at the local supermarket as I feel very anxious and unsafe.

Things have to solve a lot of now, we have very good restriction in the work, we are holding a two meters of each other at all times. Only one entry allowed into the building and one exit, and we are very good at keeping their own social alienation, because we do not move a lot of work. As time has gone on I feel less anxious, I thank my friends all have common sense and not put themselves or others at risk. Throughout this time I've been paid properly and I know that makes me very lucky. I just can't see how we stop the social alienation and now, it has become the new norm.
G/O media can be obtained of the Commission
Gerald's bar Manager, Australia
I sold everything, all my behavior for six months, and then began life on the East Coast after leaving Perth, Australia on the West Coast.

I by Wuhan just as news hit of a new virus, riding on a bullet train in. I left China to Japan about a week later, and travelled to Tokyo, the end in Fukuoka before returning to Tokyo fly to Seoul just because of the Diamond Princess docked. I left Korea in the first case was reported related to Shincheonji Church.

Returned to Australia on March 3 from the Philippines, in our confinement, just two short weeks before the roadblocks were established in Manila. I managed to escape the virus all the way through from the initial report until I returned to Australia and now I'm(still)trapped on the East Coast, because my home country has closed its borders. I'm trying to visit friends before going to visit home. Now I'm stuck here, living on my savings, no job and no job prospects, and sleeping in a friends spare bedroom. I was effectively homeless.

I'm a lucky man. I have savings, and thanks to some close friends I have a place to sleep. My lifelong dream vacation traveling through Southeast Asia into a slightly paranoid nightmares, which thankfully never caught up with me until I go back to my country. Even so, I'm stuck thousands of kilometers.
Ed Meehan, teachers, and the American West
I'm very lucky when it comes to finances. My wife and I both teach at the same high school and our work is safe. We are dealing with it quite well of emotion.

When it comes to our work, which is very challenging. We are all teachers like our work and our students and in 24 hours we have completely changed everything. Theatre and education, the things that absolutely need you to be in the same room with your audience or class. A personal connection is extremely important.

Educators do an amazing job pivot, but it is a little broken know, we really can't do that. We really want to be back together in the next drop, but this means that we will have the transfer mode of the sharp again and working with some of the distance learning hybrid courses. At the same time, we hear of massive cuts in education as a result, the epidemic. I don't know how we can make the proposed changes have less money. When the company is saving a lot of time, but we face the depth of the cut, we tend to feel a little morale low.

That said, I still feel very lucky. My family is safe and secure. I'm not in danger of losing my home and I can safely isolate a lot of space for my family. I just want to go back to the same room and my students, so I can really connect and create a safe space, and a theater.
---
If you want to be included in a future version of the sick leave, please use the This Google form Or give me a E-mail With the theme"I Covid story." Maintain health and safety.