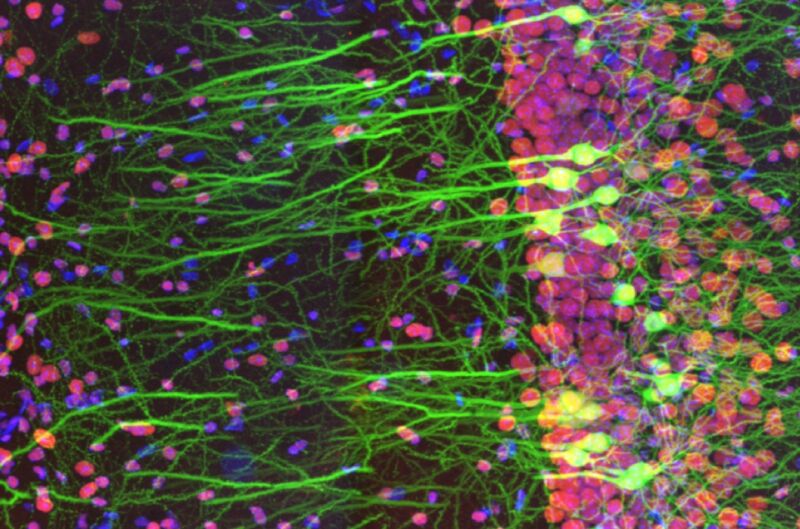 For years, we regularly published the winners of Nikon's annual Small World microscope game. Now, Olympus has entered into cunning like on the stage, with the first global image of the Year award. Just like the Small World competition, the purpose is to highlight the cunning of science imaging the hope of inspiring the world, to appreciate the inner beauty mirror. Olympus announce the winners(one global winner, plus three region bits), with several runner-up last month. They do not disappoint.
As ARS'John Timmer pointed out in his 2018 Small World scope:"microscope is one of the brothers, the photography in many ways beyond the participation of the high-end of the lens. While this may matter for scientific purposes, a striking microscope image depends on things like composition, lighting, exposure, and more. And these days, both areas heavily dependent on post-processing." All of these factors are the abundance of the new crop of Olympus the winners.
Spain's Ainara Pintor snagged the highest honor from the more than 400 comments with her beautiful images of the immunostaining of rat brain sections, named Neurogarden. The image focused on the hippocampus region of a single sheet, but also has more than 70 million nerves of the rat brain as a whole, according to Pintor. Howard Vindin Australia won the regional award for the Asia-Pacific captures an autofluorescence image of mouse embryos. Our contestants Tagide de Carvalho won the regional prize for the Americas with his color image of one belonging to the tardigrada door water bear insect to. The regional winners for Europe, Middle East and Africa to the UK Alan Prescott, for his image capturing the frozen section of a mouse head.
The honorary award includes a striking microscopic images of photonic crystal in the insect scales, the amino acid crystals, the desert locust wings, and Opal inlay in iron ore rock, among others. Obviously, the field of photomicroscopy is still attracting top talent.
Global winner: immune rat brain slices with two fluorophores.

Regional winners for the Americas: this is a colorful belongs to the tardigrada door water bear insect)!

Tagide de Carvalho/Olympus

Asia-Pacific regional winner: autofluorescence image of mouse embryos.

Howard Vindin/Olympus

Europe/Middle East/Africa regional winner: frozen section of a mouse head.

Alan Prescott/Olympus

Honorable mention: the mouse spinal cord.

Tong Zhang/Mount Olympus

Honorable mention: image of 3D depth color-coded reconstruction of confocal images of microtubules in monkey fibroblast cells.

Daniela Malide/Olympus

The photonic crystals of the insect(beetles and weevils)FTW!

Rudolf Buechi/Olympus

Preparation of amino acid crystallization of an ethanol solution.

Justin Zoll/Olympus

The desert locust is an instance of the insect species had evolved folding wings, the better to ensure they are clean and complete. This image is a so-called A in the sky of the road Because"the veins look like a road and a thorn in the(present)wing membrane is like stars."

Hamed Rajabi/Olympus

Emerald material, green quartz section, enlarged, through a microscope, looks like a nautical Coast line in Fig. The brown areas are iron ore rock host rock.

Nathan*any Buddha/Mount Olympus

Microscopic images of fruit fly brains.

Martin hail/Olympus

Inflorescences developing flower buds Express the fluorescent reporter(green), cell wall stained red.

Nat Prunet/Olympus

The ovaries of a gall-inducing Wasp shows eggs.

Ming de Lin/Olympus